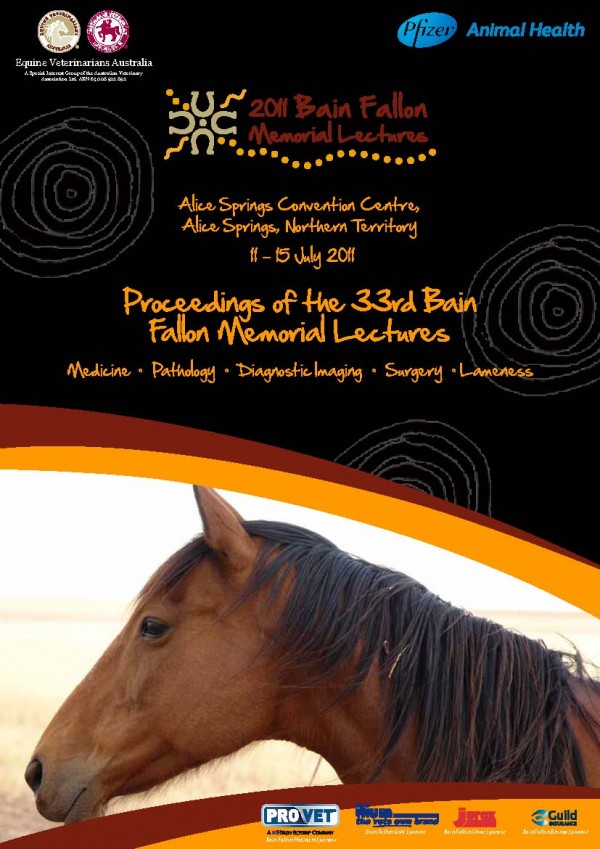 Proceedings of the Bain Fallon Memorial Lectures
Published by:
Australian Equine Veterinary Association
Electronic ISSN:
1834-1330
The Bain Fallon Memorial Lectures are presented annually over five days by renowned international speakers each July. Equine Veterinarians Australia (EVA) aim to make these annual lectures the premier resource for the continuing education of equine interest veterinarians in the southern hemisphere. The complete archive of Bain Fallon Proceedings on SciQuest contains the full text of all articles published since the inaugural meeting in 1974 to date, in fully indexed and searchable format. Currently this comprises more than 650 high-quality articles covering a wide range of topics in equine medicine, surgery, nutrition and reproduction, making this an unparalleled resource for equine practitioners.
Volume 41 ( 2019 )
Opthamology, Dermatology, Lameness ( Aug )
Volume 40 ( 2018 )
Bain Fallon Memorial Lectures ( Jul )
Volume 39 ( 2017 )
Orthopaedics, Neurology and Muscle Disorders ( Sep )
Orthopaedics, Neurology and Muscle Disorders ( Aug )
Orthopaedics, Neurology and Muscle Disorders ( Jul )
Volume 38 ( 2016 )
Surgery, Ultrasonography, Regenerative Medicine ( Jul )
Volume 37 ( 2015 )
Reproduction, Podiatry and Lameness, Foal Medicine and Surgery ( Jul )
Volume 36 ( 2014 )
The Year of the Horse ( Jul )
Volume 35 ( 2013 )
Surgery, medicine, ophthalmology ( Jul )
Volume 34 ( 2012 )
Reproduction, Behaviour, Podiatry ( Jul )
Volume 33 ( 2011 )
Medicine, Pathology, Diagnostic Imaging, Surgery, Lameness ( Jul )
Volume 32 ( 2010 )
Reproduction, Surgery, Critical Care, Lameness ( Jul )
Volume 31 ( 2009 )
Internal Medicine, Lameness, Pharmacology, Physiology ( Aug )
Volume 30 ( 2008 )
Dermatology,Dentistry,Reproduction and Evidence-based Medicine ( Jul )
Volume 29 ( 2007 )
Equine Medicine,Lameness and Behaviour ( Jul )
Volume 28 ( 2006 )
Diagnostic Imaging,the Equine Foot and Foal Medicine ( Jul )
Volume 27 ( 2005 )
Equine Lameness,Equine Medicine and Infectious Disease ( Jul )
Volume 26 ( 2004 )
Equine Reproduction and Soft Tissue Infection ( Jul )
Volume 25 ( 2003 )
Opthalmology,Anaesthesia and Equine Practice Management ( Jul )
Respiratory and Gastrointestinal Medicine ( Jul )
Volume 24 ( 2002 )
Equine Medication and Conditions of the Foot ( Jul )
Volume 23 ( 2001 )
Respiratory and Gastrointestinal Medicine ( Jul )
Volume 22 ( 2000 )
Joints and Imaging ( Jul )
Volume 21 ( 1999 )
Emergency & Critical Care and Foot Conditions ( Jul )
Volume 20 ( 1998 )
Lameness and Ultrasound ( Jul )
Volume 19 ( 1997 )
Equine Reproduction ( Jul )
Volume 18 ( 1996 )
Equine Neurology and Nutrition ( Jul )
Volume 16 ( 1994 )
Equine Opthalmology,Plant Toxicology,and Maximising Performance ( Jul )
Volume 15 ( 1993 )
Equine Head and Hindlimb Medicine and Surgery ( Jun )
Volume 14 ( 1992 )
Equine Anaesthesia,Abdominal Surgery and Medicine of the Foal ( Jul )
Volume 13 ( 1991 )
Athletic Injuries in the Performance Horse ( Jul )
Volume 12 ( 1990 )
Current Issues in Equine Practice ( May )
Volume 11 ( 1989 )
Equine Pharmacology and Therapy ( May )
Volume 10 ( 1988 )
Equine Diagnostics and Therapeutics ( May )
Volume 9 ( 1987 )
The Mare and the Foal ( Aug )
Volume 7 ( 1985 )
Abstracts from the Proceedings of the Bain Fallon Memorial Lectures ( Apr )
Volume 6 ( 1984 )
Equine Internal Medicine ( May )
Volume 3 ( 1981 )
Surgery and Diseases of the Oral Cavity and Respiratory Tract ( Jun )