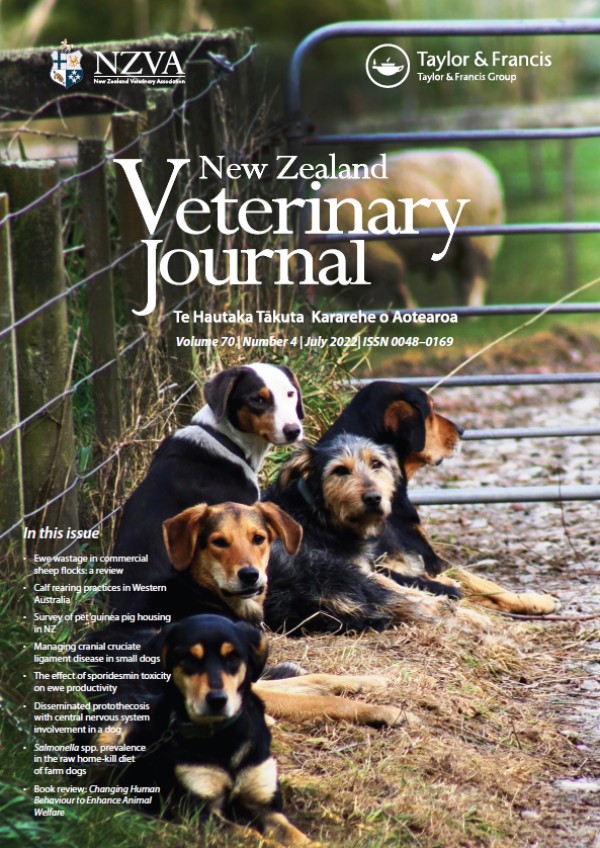 New Zealand Veterinary Journal
Published by:
Taylor and Francis
Electronic ISSN:
0048-0169
The New Zealand Veterinary Journal (NZVJ) is an international journal publishing high quality peer-reviewed articles covering all aspects of veterinary science, including clinical practice, animal welfare and animal health. It is published by Taylor & Francis Group on behalf of the NZVA.
Aims of the Journal
To be the flagship publication of the New Zealand Veterinary Association, publishing evidence-based research by veterinary clinicians and animal scientists.
To provide a forum for the dissemination of research on animal welfare and the improvement of animal wellbeing.
To be a highly-relevant educational resource for veterinary and animal science professionals in New Zealand and overseas, including publication of special issues and state of the art reviews, and to inform the wider public on related topics.
Scope
The NZVJ publishes original research findings, short communications, clinical communications (including novel case reports and case series), correspondence and review articles, originating from New Zealand and internationally.
Topics should be relevant to the New Zealand veterinary and animal science communities, and include the disciplines of infectious disease, medicine, surgery and the health, management and welfare of production and companion animals, horses and New Zealand wildlife.
All submissions are expected to meet the highest ethical and welfare standards, as detailed in the Journal's instructions for authors.
Publication
All submissions undergo initial screening by the editorial team and editorial board and may then be independently single-blind refereed, regardless of source.
We aim to publish accepted manuscripts online within 3 weeks of acceptance and subsequently allocated to issues published bimonthly in January, March, May, July, September and November each year.
The whole of the literary matter of the New Zealand Veterinary Journal is copyright, New Zealand Veterinary Association Inc.
More information about the NZVJ can be found on the NZVJ homepage.
A note on downloading PDFs
Taylor & Francis have enabled EPUB downloads on recent NZVJ articles. If you wish to download a PDF version of the article, click on the green PDF | EPUB button. The EPUB version will load. You can choose to download the PDV version from clicking on the grey EPUB button in the top centre of the page and selecting PDF.
Volume 63 ( 2015 )
Issue 2 Supplement ( Mar )
Volume 50 ( 2002 )
Issue 3 Supplement ( Jun )